×
×
×
×
×
Kürzlich aktualisiert
NEW GAME PLUS
It's time for a new challenge! There's a 4th star to be collected, but it's not going to be easy.
New Game Plus unlocks once all the story mode levels have been completed in Campaign, so get cooking.
Review Scores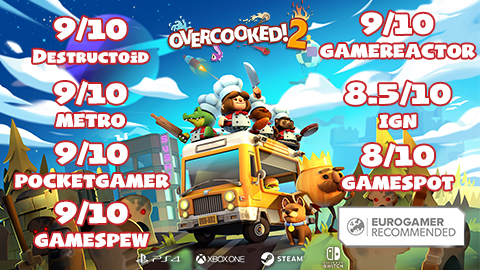 Best Family/Social Game


Über das Spiel
Overcooked kehrt mit einer brandneuen zweiten Portion Chaos-Koch-Action zurück! Kehrt ins Zwiebelreich zurück und stellt in klassischem Couch-Koop oder Onlinespiel für bis zu vier Spieler euer Team aus Köchen zusammen. Haltet eure Schürzen fest … Es ist (wieder) Zeit, die Welt zu retten!
Aus der Bratpfanne ins Feuer …
Ihr habt die Welt vor dem Ewig Schmachtenden gerettet. Jetzt erhebt sich eine neue Bedrohung, also kehrt in die Küche zurück, um den hungrigen Unbroten zu widerstehen.

ONLINE-/LOKALER MEHRSPIELERWAHNSINN
Arbeitet zusammen (oder gegeneinander) und erreicht im chaotischen lokalen und Online-Mehrspielermodus die höchste Punktzahl.

FESTMAHL FÜR DIE AUGEN
Bereist zu Land, zur See und in der Luft eine brandneue Weltkarte. Kocht in neuen Umgebungen: Sushi-Restaurants, Magieschulen, Bergwerke und sogar fremde Planeten!
APPETITHÄPPCHEN!
Bereist die Lande und kocht eine Vielzahl neuer Rezepten, wo für jeden Geschmack was dabei ist: Sushi, Kuchen, Burger und Pizzen.

NUR KEINE HEKTIK!
Reist durch Teleporter, über sich bewegende Plattformen und spart Zeit, indem ihr Zutaten durch dynamische Küchen werft. Manche Küchen befördern eure Köche sogar zu anderen Orten.

* Beschreibungen, Anforderungen und Bilder dienen nur zu Informationszwecken